Our newsletter got longer than we thought and thus we post it here too. Here you find updates on the company and our selection of the most interesting publications around MOFs in the last quarter. Have a look!
2019 was an important year for MOFs and novoMOF AG especially. We have seen another increase in research and great interest from the industry too!
novoMOF has seen significant developments in the last year as we moved into our new facilities in Zofingen, grew the team and installed our production line.
Marco Taddei was promoted to an assistant professor position at the University of Pisa, Italy, beginning in January.
Mircea Dincă has just recently patented a MOF for supercapacitors powering Lamborghinis next generation of hybrid supercars. You find more information on the project here.
Omar Yaghi has published 'Introduction to Reticular Chemistry' – a great introduction to MOFs and COFs. Find more information below.
We received great feedback on the publications we sent the last time and we are always happy to hear what you are most interested in. So feel free to reach out!
From our blog
The most read articles of the last quarter
We have categorised the publications and news in the following sections (click to skip to the section):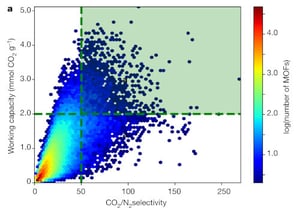 The authors show that data mining of a computational screening library of over 300,000 MOFs can identify different classes of strong CO2-binding sites—which we term 'adsorbaphores'—that endow MOFs with CO2/N2 selectivity that persists in wet flue gases. We subsequently synthesized two water-stable MOFs containing the most hydrophobic adsorbaphore, and found that their carbon-capture performance is not affected by water and outperforms that of some commercial materials. Testing the performance of these MOFs in an industrial setting and consideration of the full capture process—including the targeted CO2 sink, such as geological storage or serving as a carbon source for the chemical industry—will be necessary to identify the optimal separation material.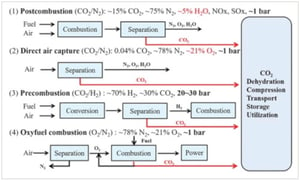 In this review, the authors focus on the engineering perspective on this topic, with emphases on material evaluation, performance judgment, and process design to address the engineering issues of these materials to be used as adsorbents in industrial CO2 capture. The current engineering evaluation approaches for MOFs are summarized, in a manner that could also be applied to other adsorbent materials.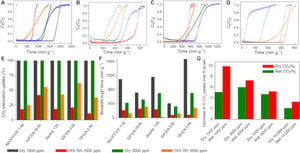 Here, dynamic breakthrough gas experiments conducted upon the ultramicroporous material SIFSIX-18-Ni-β reveal trace (1000 to 10,000 ppm) CO
2
removal from humid air. We attribute the performance of SIFSIX-18-Ni-β to two factors that are usually mutually exclusive: a new type of strong CO
2
binding site and hydrophobicity similar to ZIF-8. SIFSIX-18-Ni-β also offers fast sorption kinetics to enable selective capture of CO
2
over both N
2
(
S
CN
) and H
2
O (
S
CW
), making it prototypal for a previously unknown class of physisorbents that exhibit effective trace CO
2
capture under both dry and humid conditions.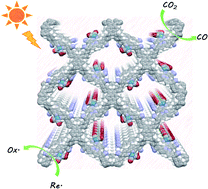 Photocatalytic conversion of CO2 into fuels is an important challenge for clean energy research and has attracted considerable interest. Here we show that tethering molecular catalysts—a rhenium complex, [Re(bpy)(CO)3Cl]—together in the form of a crystalline covalent organic framework (COF) affords a heterogeneous photocatalyst with a strong visible light absorption, a high CO2 binding affinity, and ultimately an improved catalytic performance over its homogeneous Re counterpart. The COF incorporates bipyridine sites, allowing for ligation of the Re complex, into a fully π-conjugated backbone that is chemically robust and promotes light-harvesting. A maximum rate of 1040 μmol g−1 h−1 for CO production with 81% selectivity was measured. CO production rates were further increased up to 1400 μmol g−1 h−1, with an improved selectivity of 86%, when a photosensitizer was added. Addition of platinum resulted in production of syngas, hence, the co-formation of H2 and CO, the chemical composition of which could be adjusted by varying the ratio of COF to platinum. An amorphous analog of the COF showed significantly lower CO production rates, suggesting that crystallinity of the COF is beneficial to its photocatalytic performance in CO2 reduction.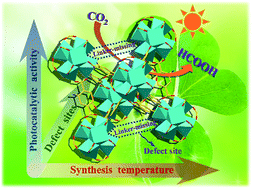 Defect engineering can be a promising approach to improve the photocatalytic performance of metal–organic frameworks (MOFs). Herein, a series of defective NH2-UiO-66(Zr) materials were synthesized via simply controlling the synthesis temperature, with concentrated HCl as the modulator and then these as-prepared samples were used to systematically investigate the effects of their structural defects on photocatalytic CO2 reduction. Remarkably, these MOFs with defects exhibit significantly enhanced activities in photocatalytic CO2 reduction, compared with the material without defects. The defect engineering creates active binding sites and more open frameworks in the MOF, and thus facilitates the photo-induced charge transfer and restrains the recombination of photo-generated charges efficiently. The current work provides an instructive approach to improve the photocatalytic efficiency by taking advantage of the structural defects in MOFs, and could also inspire more work on the design of advanced defective MOFs.
Supercapacitors
Robust and scalable thin-film deposition methods are key to realize the potential of metal-organic frameworks (MOFs) in electronic devices. Here, we report the first integration of the chemical vapor deposition (CVD) of MOF coatings in a custom reactor within a cleanroom setting. As a test case, the MOF-CVD conditions for the zeolitic imidazolate framework-8 are optimized to enable smooth, pinhole-free, and uniform thin films on full 200 mm wafers under mild conditions. The single-chamber MOF-CVD process and the impact of the deposition parameters are elucidated via a combination of in situ monitoring and ex situ characterization. The resulting process guidelines will pave the way for new MOF-CVD formulations and a plethora of MOF-based devices.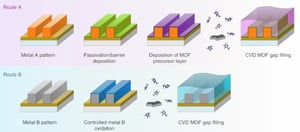 The performance of modern chips is strongly related to the multi-layer interconnect structure that interfaces the semiconductor layer with the outside world. The resulting demand to continuously reduce the k-value of the dielectric in these interconnects creates multiple integration challenges and encourages the search for novel materials. Here we report a strategy for the integration of metal-organic frameworks (MOFs) as gap-filling low-k dielectrics in advanced on-chip interconnects. The method relies on the selective conversion of purpose-grown or native metal-oxide films on the metal interconnect lines into MOFs by exposure to organic linker vapor. The proposed strategy is validated for thin films of the zeolitic imidazolate frameworks ZIF-8 and ZIF-67, formed in 2-methylimidazole vapor from ALD ZnO and native CoOx, respectively. Both materials show a Young's modulus and dielectric constant comparable to state-of-the-art porous organosilica dielectrics. Moreover, the fast nucleation and volume expansion accompanying the oxide-to-MOF conversion enable uniform growth and gap-filling of narrow trenches, as demonstrated for 45 nm half-pitch fork-fork capacitors.

The emergence of electrically conductive metal–organic frameworks (MOFs) has led to applications in chemical sensing and electrical energy storage, among others. The most conductive MOFs are made from organic ligands and square-planar transition metal ions connected into two-dimensional (2D) sheets stacked on top of each other. Their electrical properties are thought to depend critically on the covalency of the metal–ligand bond, and less importance is given to out-of-plane charge transport. Here, we report a series of lanthanide-based MOFs that allow fine tuning of the sheet stacking. In these materials, the Ln3+ ions lie between the planes of the ligands, thus connecting organic layers into a 3D framework through lanthanide–oxygen chains. Here, efficient charge transport is found to occur primarily perpendicular to the 2D sheets. These results demonstrate that high conductivity in layered MOFs does not necessarily require a metal–ligand bond with highly covalent character, and that interactions between organic ligands alone can produce efficient charge transport pathways.
Gas Separation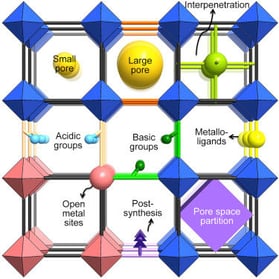 Gas separation is a very important industrial process for manufacturing chemicals, fuels, plastics, and polymers but is also energy intensive through the traditional cryogenic distillations. Adsorptive gas separation by porous materials can potentially fulfill the energy-efficient separation economy. Metal-organic frameworks (MOFs), a new generation of porous materials, have been demonstrated for their promise in addressing important gas separations. In this review, we outline the uniqueness and basic design principles of MOF chemistry for gas separation in terms of their specific pore chemistry and molecular recognition. The finely tuned micropores for the high sieving effects and immobilized functional sites on pore surfaces for specific recognition of gas molecules have enabled us to develop a variety of microporous MOFs for many gas separations with both high separation selectivity and productivity. We highlight the major progress and achievements in this very important topic, which will further facilitate the extensive research endeavors and promote their industrial implementation for gas separation.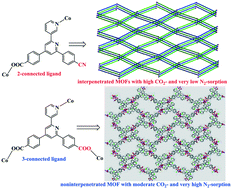 Among metal–organic frameworks (MOFs), the interpenetrated MOFs commonly affect the gas adsorption properties. Herein, a cyano-containing 2-connected ligand, 4-(6-(4-cyanophenyl)-[2,3′-bipyridin]-4-yl)benzoic acid (HL1), was used to construct two novel MOFs ([Co(L1)2] and [Zn(L1)2]), and as a result, two two-fold interpenetrated MOFs were expectantly obtained. Both interpenetrated MOFs possess quasi-hexagonal channels and reveal good CO2 gas adsorption capacities at 273 K, attributable to the nitrile groups in the frameworks of MOFs. In contrast to CO2, both interpenetrated MOFs only have very low N2 gas adsorption capacities at 77 K, suggesting potential application in gas separation. More interestingly, when simple modification of the ligand functional group (from the cyano group to the carboxyl group), a new non-interpenetrated MOF ([Co2(L2)2(H2O)]) with rugby-like channels is constructed by using 3-connected 4,4′-([2,3′-bipyridine]-4,6-diyl) dibenzoic acid (H2L2), which is ascribed to the change in ligand functionality (from the cyano group to the carboxyl group). Significantly, this non-interpenetrated MOF reveals much high N2 gas adsorption capacity at 77 K, and moderate CO2 gas adsorption capacity at 273 K owing to the absence of the nitrile groups in the MOF. Furthermore, the magnetic properties of two Co-based MOFs and photoluminescence of three MOFs have also been investigated. The present work provides a promising approach to design and construct interpenetrated/non-interpenetrated MOFs by changing ligand functionality and to tune gas adsorption properties.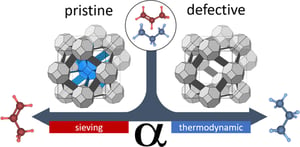 An effective separation of propylene/propane mixtures is one of the most important processes in the petrochemical industry. Incidentally, this separation is challenging due to the extensive similarities between both gases in terms of physicochemical properties such as, but not only limited to, boiling point, kinetic diameter, and molecular weight. A drive to switch to energy efficient processes, like adsorption or membrane separation, has highlighted several microporous metal organic frameworks as promising materials. In this work, we present a combined numerical and experimental investigation on propane and propylene adsorption in Zr-fumarate-MOF (also known as MOF-801), a small pore isoreticular analogue of UiO-66. Here, we demonstrate how the presence of structural defects can completely change the sorptive properties and separation performance of the Zr-fumarate-MOF, with the loss of sieving effects and a reversal of selectivity toward propane, as well as enhanced capacity and diffusion rates for C3-sized hydrocarbons. Extensive GCMC simulations performed on mixed defective supercells show that a ratio of missing-cluster defects of around 1/8 can best account for the experimental results. Furthermore, analysis of low-frequency phonon spectra is used to explain gaseous diffusion in the original pristine material. Finally, the thermodynamic preference for propane over propylene is confirmed through column breakthrough experiments, suggesting the potential applicability of the Zr-fumarate-MOF in this challenging separation.
Water purification and environmental applications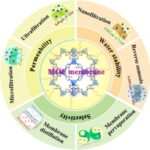 Metal-organic framework (MOF), which is composed of metal ions and bridged organic ligands, are one of the most high-profile materials currently, because their regular and tunable pore structures confer unique properties. In particular, MOF materials have attracted widespread attention in the field of membrane separation, wherein water-stable MOF membranes stand out especially in the field of wastewater treatment and water regeneration. This review critically summarizes the various design and synthesis strategies of bare MOF membranes and MOF composite membranes. The formation and function of the structural defects in MOF play important roles in the performance of MOF-based membrane. Different characterization techniques are discussed systematically, and the applications of MOF membranes in membrane filtration, membrane distillation, and membrane pervaporation are described. In order to uncover the full potential of MOF-based membranes in wastewater treatment and water regeneration, current challenges are detailed and future research directions proposed.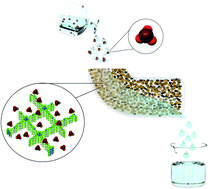 The presence of carcinogenic bromate (BrO3−) in drinking water became a global concern and efforts towards its removal mainly focused on addressing the source. Herein, we rationally designed a porphyrin-based covalent organic framework (PV-COF) with a cationic surface to provide electrostatic interactions and a porphyrin core to induce hydrogen bonding interactions for the efficient removal of BrO3− from water. Through H-bonding and electrostatic interactions, PV-COF exhibited an exceptional bromate removal efficiency (maximum adsorption capacity, Qmax: 203.8 mg g−1) with the fastest uptake rate (kads) of 191.45 g mg−1 min−1. The bromate concentration was reduced to far below the allowed concentration in drinking water (10 ppb) within 20 minutes. We studied the relationship between bromate adsorption and COF surface modification by metalation of the porphyrinic core or neutralization of the viologen linkers by chemical reduction. The bromate adsorption mechanism was studied by EDAX mapping and molecular simulations, and it was found that ion exchange and hydrogen bonding formation drive the adsorption. Importantly, PV-COF could be easily recycled several times without compromising its adsorption efficiency.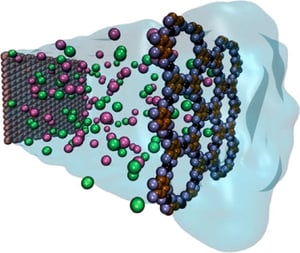 Providing fresh and drinkable water is a grand challenge the world is facing today. Development in nanomaterials can create possibilities of using energy-efficient nanoporous materials for water desalination. In this work, we demonstrated that ultrathin conductive metal–organic framework (MOF) is capable of efficiently rejecting ions while giving access to high water flux. Through molecular dynamic simulation, we discovered perfect ion rejection rate by two-dimensional (2D) multilayer MOF. The naturally porous structure of 2D MOF enables significantly 3–6 orders of magnitude higher water permeation compared to that of traditional membranes. Few layers MOF membranes show 1 order of magnitude higher water flux compared to that of single-layer nanoporous graphene or molybdenum disulfide (MoS2) without the requirement of drilling pores. The excellent performance of 2D MOF membranes is supported by water permeation calculations, water density/velocity profiles at the pore, and the water interfacial diffusion near the pore. Water desalination performance of MOF offers a potential solution for energy-efficient water desalination.
Pharmaceuticals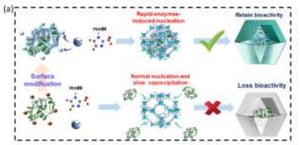 Embedding enzyme within MOFs exoskeleton (enzyme@MOFs) offers exciting and elegant opportunities to improve the inherent fragile nature of the enzyme. It not only allows to extending the lifetime of the enzymes, but also imparts the novel biofunctionality to the MOFs. Despite the remarkable stability of MOFs‐embedded enzyme is achieved, limited consideration has been given to the embedding patterns and the conversion of the enzymatic biofunctionality after entrapment by a MOFs. Herein, we for the first time reveal that how do the embedding patterns affect the bioactivity of an enzyme encapsulated in ZIF‐8, a most widely used MOFs exoskeletons. Our findings show that the enzymes@MOFs, wherein the encapsulation process is driven by the rapid enzymes‐triggered nucleation of ZIF‐8, can maintain high enzymatic activity comparable to the free enzymes. Whereas, in the case that the encapsulation is driven by the slow coprecipitation procedure wherein the enzymes are not involved in the nucleation of ZIF‐8, the obtained enzymes@MOFs tends to be inactive owing to the unfolding effect and competing coordination caused by the ligand, 2‐methyl imidazole. Importantly, our work demonstrates that these two different embedding patterns are facile to be controlled via chemical modification of the amino acids of the enzymes that enabling to modulate the biofunctionality of the encapsulated enzymes.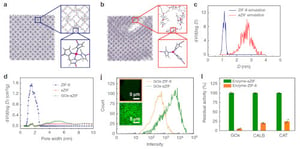 Enzymatic catalysis in living cells enables the in-situ detection of cellular metabolites in single cells, which could contribute to early diagnosis of diseases. In this study, enzyme is packaged in amorphous metal-organic frameworks (MOFs) via a one-pot co-precipitation process under ambient conditions, exhibiting 5–20 times higher apparent activity than when the enzyme is encapsulated in corresponding crystalline MOFs. Molecular simulation and cryo-electron tomography (Cryo-ET) combined with other techniques demonstrate that the mesopores generated in this disordered and fuzzy structure endow the packaged enzyme with high enzyme activity. The highly active glucose oxidase delivered by the amorphous MOF nanoparticles allows the noninvasive and facile measurement of glucose in single living cells, which can be used to distinguish between cancerous and normal cells.
Biomimetics
Biomimetic mineralization of nitrile hydratase into a mesoporous cobalt-based metal-organic framework for efficient biocatalysis
Nitrile hydratases (NHases) have attracted considerable attention owing to their application in the synthesis of valuable amides under mild conditions. However, the poor stability of NHases is still one of the main drawbacks for their industrial application. Recently, mesoporous metal–organic frameworks (MOFs) have been explored as an attractive support material for immobilizing enzymes. Here, we encapsulated a recombinant cobalt-type NHase from Aurantimonas manganoxydans into the cobalt-based MOF ZIF-67 by a biomimetic mineralization strategy. The nano-catalyst NHase1229@ZIF-67 shows high catalytic activity for the hydration of 3-cyanopyridine to nicotinamide, and its specific activity reached 29.5 U mg−1. The NHase1229@ZIF-67 nanoparticles show a significant improvement in the thermal stability of NHase1229. The optimum reaction temperature of NHase1229@ZIF-67 is at 50–55 °C, and it still retained 40% of the maximum activity at 70 °C. However, the free NHase1229 completely lost its catalytic activity at 70 °C. The half-lives of NHase1229@ZIF-67 at 30 and 40 °C were 102.0 h and 26.5 h, respectively. NHase1229@ZIF-67 nanoparticles exhibit an excellent cycling performance, and their catalytic efficiency did not significantly decrease in the initial 6 cycles using 0.9 M 3-cyanopyridine as the substrate. In a fed-batch reaction, NHase1229@ZIF-67 can efficiently hydrate 3-cyanopyridine to nicotinamide, and the space–time yield was calculated to be 110 g·L−1·h−1. Therefore, the cobalt-type NHase was immobilized in MOF ZIF-67, which is shown as a potential nanocatalyst for the large-scale industrial preparation of nicotinamide.
Natural Gas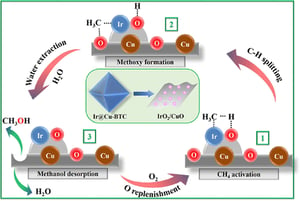 Direct oxidation of methane to methanol is desired for high value-added utilization of natural gas, but it remains a challenge. Herein, we present a highly mixed hybrid oxide, IrO2/CuO, prepared using a bottom-up tactic, namely, nanoparticle synthesis, encapsulation by Cu-containing metal–organic frameworks, and in situ oxidation, as an advanced catalyst for methane oxidation to methanol. Through the synergistic function of IrO2 for CH4 activation and CuO for selective oxidation, an inspired methanol batch yield of 872 μmol g–1 is achieved under mild feeding conditions of 3 bar CH4/1 bar air in water at 150 °C for 3 h with a robust cyclic stability. Upon elevating the CH4 feeding pressure to 20 bar, the methanol yield reaches as high as 1937 μmol g–1, which is among the best state-of-the-art values.

A new Zn-based metal–organic framework with 8-connected hex topology constructed from bipyridine and carboxylate ligands, namely [Zn(cpna)3(tmbpy)]n·4DMF (1) (H2cpna = 6-(4-carboxyphenyl)nicotinic acid; tmbpy = 3,3′-dimethyl-4,4′-bipyridine), has been synthesized under solvothermal conditions. The Zn-MOF was structurally characterized and retained a good crystal structure after activation (1a), an indication of permanent porosity. 1a exhibits a BET surface of 770 m2 g−1 and the maximum aperture of 8.60 Å. Single component adsorption isotherm measurements of C2H2, CO2, CH4, CO and N2 on 1a were performed both at 273 K and 298 K, and the selectivities for C2H2/CH4, C2H2/CO2, CO2/CO, CO2/CH4 and CO2/N2 were estimated on the basis of the ideal adsorbed solution theory (IAST). 1a shows the uptake of C2H2 (3.89 mmol g−1) and CO2 (3.52 mmol g−1) at 273 K and 100 kPa, respectively. Due to the Lewis basic pyridyl sites inside the channel of the framework, 1a showed good adsorption selectivities for C2H2/CH4(50 : 50) and C2H2/CO2(50 : 50) at 298 K (100 kPa).
Catalysis